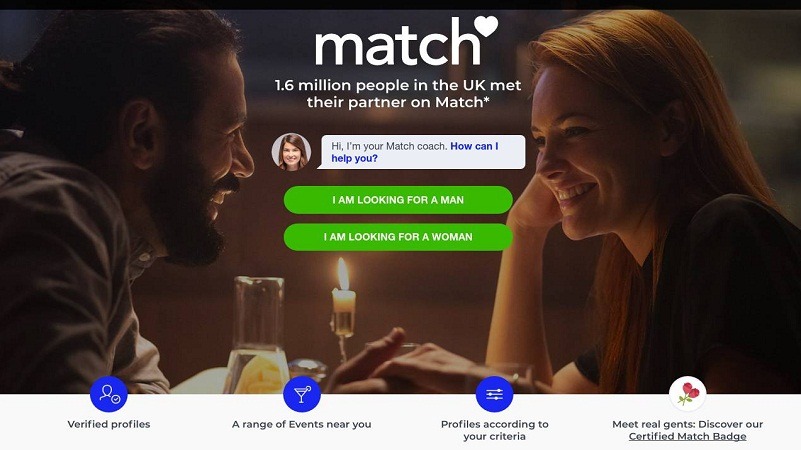 Having been created in the year 1995, match.com is one of the largest and oldest dating services on the Internet. Match.com serves users from over 24 countries and hosts its websites in 15 languages. Users create profiles and describe themselves and what they are hoping to find in the people they might date. These profiles and other tools are key to finding that special person. 

Match.com Filters
The match is a pretty self-explanatory site/app. Its search tools allow you to narrow down the dating field to people who meet your standards in terms of distance, personality, looks, interests, and lifestyle. You can also filter the results to show only profiles that have photos or are online now. And you can search by keyword. Additionally, Match offers a unique Reverse Match and Mutual Match filters, which curate a list of profiles that are looking for someone like you.
Recently, Match.com has implemented innovative Verification tools to allow users to build trust on the dating platform by connecting through a valid social media account. Match will give users a badge that shows up on their profiles if they verify their Facebook accounts, email addresses, phone numbers, Twitter accounts, and other social media profiles. This is a completely optional feature, but it can help you build credibility with potential love interests. 
RELATED ARTICLE: VictoriaHearts.com
Frequently Asked Questions
Is it worth it to buy a match.com membership?
Absolutely! Is worth it to buy a membership of match.com. Match.com helped pioneer the online dating industry and now serves 24 countries and territories and hosts Web sites in 15 different languages.
How has Match.com worked for you?
Match.com gives away a good deal of its features for free. Match com has developed lots of innovative ways for its members to meet up and get to know each other, and this might be what really sets them apart from other online dating services.
What is a hidden mode on the match?
Hidden Profile - Selective Visibility. Match now offers a paid feature called Private Mode that allows you to selectively hide or make your profile visible to specific members.
Does match make fake profiles?
According to the Match com online dating class action, users only learn that the profiles are fake after they pay for a subscription. ... In reality, the messages are allegedly from fake profiles and a ploy to get users to upgrade to paid services.
How to create profiles on match.com?
To create your profile, just sign in and click on your primary photo thumbnail at the top of any page and start answering the questions. The profile survey is also where you can add a photo to your profile.
Is Match.com free?
Download the app and set up a profile for free. It's a free trial after that you need to pay. Only paid subscribers can read/send messages or see who's viewed their profiles. Members can attend local Match Events if they feel burnt out on online dating.
Is match.com better than other sites?
Depends. Who are you and what are you looking for? Match com is a dating site for singles to meet new people. It is one of the oldest dating sites. Only Joining is free otherwise you need to pay for other features and services. The match is time-consuming to search through all the choices, features, and matches. Both the website and mobile app of Match.com have a clean and straightforward design.
Is match.com worth it?
Match.com is an old dating website on the Internet. They have more than 4,000,000 members from the USA, Over 20 million members worldwide. They offer a guarantee that if you don't find your ideal match in six months, they will give you an additional 6-month membership for free.
What is the joining fee on match.com?
Match com has two kinds of monthly membership plans, the Premium, and the Standard. In the Premium and standard plans, you subscribe for 3, 6, and 12 months. You can also buy Credit to view massages 1 Credit cost will be 0.99 USD, 5 Credit cost 4.00 USD, 10 Credit cost 6.00 USD.
Can I trust on Match.com?
Match.com has over 20 million members worldwide. So there are lots of fake and/or extremely old profiles that were no longer in use but more than 7 million paid users are there so you can try your luck with these members. Both the website and mobile app of Match.com have a clean and straightforward design. Match.com has these special features for its members like Boost, Reverse Matches, Likes, Match Phone, Match Me, Match Guarantee, etc.
Phone Number: +1-214-853-4309
Address: P.O. Box 12305,
Dallas TX, 75225
Reviews
Fraudulent company - BEWARE
Fraudulent company – BEWARE. They set payments to recurring without your consent. Refuse refunds and ignore requests for them to stop taking your money. DO NOT GO PREMIUM ON THIS APP. WILL COST YOU HUNDREDS OF POUNDS!
I am disappointed in the service
Do not waste your money on this website. Number one thru don't have my match and they took money out of my Account after I cancelled. I spoke to the associate who told me that refund cannot be made despite that I cancelled because I am disappointed in the service.
Would not recommend
I paid for a 6 month subscription. I was not happy with the matches. Not many near my home. Kept showing the same people even when I passed on them. Also didn't keep to the ages I specified. Would not recommend.
It's a dangerous site
I've been on several online dating sites and It is by far the most rampant with scammers. It's a dangerous site. It's very apparent these scammers are hacking legit profiles and they'll do it for yours!
Run as fast as you can away from this site.
Run as fast as you can away from this site.
Too Expensive
When you visit online dating sites You want to see the potential partners or Read their Bio before you invest. This crappy site doesn't allow you to even nibble. Bad site, do not waste your money. I have spent $200 on other sites, what a waste of time. Too Expensive
I would give this company 0
I would give this company 0 if it was an option. Please DO NOT use this website. You pay way over the odds for a service that's extremely poor. Match provide a far better service for about a quarter of the cost. This company also takes money without your permission and they don't tell you about it and then refuse to pay it back.
This site is just another fake site
This site is just another fake site with photos taken from other sites and all pre-programmed responses no one ever wants to hook up let alone give an outside email address ripoff
Annoyed me
What annoyed me was when I wanted to delete my account all of a sudden my password was no longer correct.. and my attempt to reset/ change met with tech issues.
I didn't like the app
First I didn't like the app, so I asked for account to be removed. Second, when you asked for you account & personal details to be removed, they asked for the last accessed date and date of transaction, who would remember that? Plus, they ask for your ID card to verify before they can remove your account, meaning you have to give them additional personal info before they would remove your personal info from their database. That makes a lot of sense to me.
Absolute rubbish
Absolute rubbish. I've have to overrate as minus stars aren't available. So full of fake profiles and double profiles it's a complete joke. Should be banned completely.
Worst dating site ever
Absolutely awful, nothing special about it. I wasted I think 75 on this nonsense. It has to be the worst dating site ever. Do NOT waste your money on this rubbish!
Please avoid
Please avoid this con site and don't bother wasting you time or money.
I closed my account
I closed my account a number of months ago and they continued to charge me a yearly subscription which they refused to return. Very dodgy. Try Other website
My experience was average
My experience was average. Most of the men didn't meet the criteria I selected. Also I experienced a person who lied about wanting to meet someone on this website. He refused to divulge any information about himself. I reported and blocked him.
This site was good
This site was good and give me the options of talking to different guys with out going to clubs or bars witch is perfect to me because I don't really like those places:)
Cheers for the weirdos
Cheers for the weirdos that starred at my profile but didn't speak or reply to messages..
Not refund my money
They charged me for another 6 months without my consent when I contacted the third party, I was told that they would not refund my money.
No support
No support, no singles, same faces always, a total rip. good luck all, they are taking advantage of virus, scumbags!
This was a terrible app
This was a terrible app for the 3 month subscription I took out I was lucky to have gotten one genuine person who wasn't a scammer with English as a second language
I have had an incredible experience
I have had an incredible experience and have advised all my friends about them who are hoping to settle down. The staff is exceptionally understanding and constantly prepared to help.
This is by far the best one
I've been on many dating sites, and this is by far the best one. There seems to be more people on this site, and sent you verify the identity, there are less scammers and you feel more safe. I met someone on here and I'm excited to see where it's going to go
It was easy to set up
It was easy to set up my profile and I got messages pretty quickly. Seems like there's a large and diverse user base, which to me is the most important aspect of a dating site. If I become single again, I would definitely use the site again.
Very accessible
Everything with this site was great, very accessible.No problem signing up and being notified on views and messages great. Thank you
I rate this website very highly.
I rate this website very highly. There are so many ways to talk to women here. You don't just "swipe" left and right or exchange a couple of texts. You can send a lengthy letter to tell everything about yourself. You can send photos and profiles are very informative. I love this website.
Be patient and have fun
I was about to give up on this and other dating sites. Kept with it though and in a couple of days I met someone. It takes some time, so be patient and have fun with the search process.
Great stuff!!!
The various tools that this website offers make it easier for you to navigate the website. If you are ever having trouble with your account or using the website, you can get assistance from their live support team.
I have many meetings
I was a member on this site. I have only good thoughts about it. I was spending a lot of time there, while I found "she". During that time, I have many meetings.
A lot of cool features
Found a lot of cool people on this site, the features weren't like other sites. A lot of cool features. Met a few women on here.
I want my money back!
Second dating app I've used and it is simply a confusing money-making ripoff. The messaging within the app appears to be one way only. I liked someone as was told they liked me. I messaged them and did not receive a reply. I want my money back!
Crap app
You cannot message anyone or read messages or use this application unless you pay! Crap app! Not spending my money without a probationary trial period first!
Wasted my time and money on this
It seems like a lot of weirdos and scammers are on this site. Very sad I wasted my time and money on this.
Horrible site
Horrible site. Old accounts of people who are no longer there. They also make it almost impossible to cancel your account, and when you think it is canceled you get suckered into another payment. Worst dating site with the worst customer service. I do not recommend this site.
Fake Site
Some people aren't as rich in cash as they would like to be. Match.com used to advertise as a free dating service, but it's far from being free.
A waste of time and money
A waste of time and money
Match.com is a fake site
" Match.com is a fake site, all the messages are auto responders.
Every answer I got was from an auto reply program.
CANCel quickly, DO NOT WASTE MONEY ON THIS SITE"
Stay away from Match.com
I joined Match.com because my children encouraged me to, but since joining I've found that the website preys upon the elderly and computer illiterate by spamming their inboxes with emails of "new matches", which upon clicking lead you to accidentally select upsells that then automatically charge your linked credit card (Without re-confirming credit card number or anything). This site is nothing but scams, extremely unprofessional, with the most outdated user interface I've experienced in the 2000s. Didn't meet anyone, except a few shady women who seemed to be run by a bot. Stay away from this site.