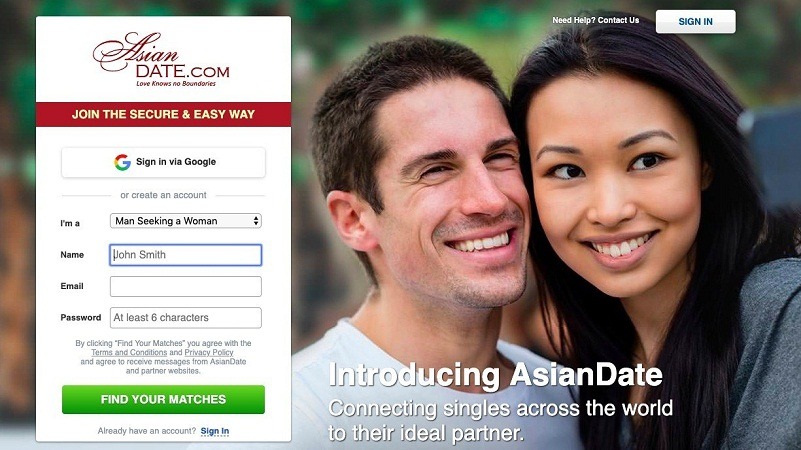 AsianDate.com was one of the first companies to develop a platform designed to connect people from around the world and it remains at the forefront of its field, continually developing improved communication technologies that allow people to discover and enjoy the possibilities of an exciting, globally-interconnected future. The site now has over 20 million members, more than 80 million visitors annually and 1.5 million+ messages exchanged daily.

Hot Chinese Models – AsianDate.com
AsianDate has some of the hottest Asian mail order brides you will find anywhere online. In fact, if you are dreaming of dating hot Chinese models. It is probably the best place on the internet to begin your quest. There are a lot of beautiful Asian ladies on the site now. But you should check back regularly to AsianDate because they make it their business to find super hot Chinese models, beautiful Filipina girls, and sexy Thai brides.
AsianDate is owned by Anastasia International, and as with all the sites in the Anastasia, family communications flow exclusively through their site, and all personal data and contact information is deleted from your emails.
RELATED ARTICLE: RussianBrides.com
Frequently Asked Questions
How do I delete AsianDate.com account?
Account deletion can be requested through email correspondence with AsianDate customer support.
How do I chat with users on AsianDate?
In every search query result, there is a chat option which you can just click to begin chatting right away. However, this is not a free feature.
Is AsianDate.com safe to be a member of?
AsianDate has terms and conditions for fair use. It is up to you if you want to pay the website for its features.
Can I send a message for free at AsianDate.com?
Only the first exchange is free at AsianDate. If you want to interact with the members more, you'll be asked to upgrade by purchasing Credits.
Are the profiles in AsianDate real?
The authenticity of the profiles in AsianDate is controversial. There have been reports of stolen photos of women found on the website.
What is the price list of AsianDate.com credits?
20 Credits for 15.99 USD
160 Credits for 96.00 USD
1,000 Credits for 399.00 USD
What are the paid features of Asiandate?
There are many special features on AsianDate
Reply to letters Live
chat with female profiles
Cam Share
View videos on women's profiles
Virtual Gifts Flowers and presents delivery
Three-way call with an interpreter
Is AsianDate expensive?
Yes, In comparison to other providers AsianDate is expensive.
How does AsianDate.com Work?
Asiandate.com helps Western men liaison with the best in Asian women through a network of over 1000 dating agency partners located in cities across Asia. Asiandate.com brings romantic couples together in a number of ways starting with Search,
Email Correspondence and
Call Me, then moving to "live" platforms such as organized dates in Asian.
What is Love Note on Asiandate?
It is easy to catch the Lady's attention by sending her Love Note absolutely free for you.
Just find the "Love Note" icon in her profile,
choose one of the most beautiful cards and
click "Send for Free".
Phone Number: +1 (800) 311-7598
Address: 551 5th Ave, New York,
NY 10017, United States
Reviews
Literally the worst customer Service ever
Literally the worst customer Service ever! I have sent over a dozen requests stating I am having issues getting in to view my account, with no response back. They say to wait 24-48 hours. This has been going on for weeks. They had no problem taking my money, though. I recommend using a site that has a responsive customer service department.
The biggest mistake I ever made
The biggest mistake I ever made. They only give you limited access of what you can do to your account THAT YOU PAY FOR. They need to do a better background on these people. They need to have a way for you to unlike someone if you change your mind about them. They also need to give you more time to decide if you like their -website- two days just isn't enough time. You're stuck with the payment if you decided that you changed your mind. There's way too much to for me to say.
Numerous emails daily
Numerous emails daily, same people over and over again. I can understand going out of age range but I am pretty strict about gender. Also got renewed today, a heads-up about that would have been nice since I had intended to end my membership. That's 120 dollars down the drain.
The worst experience
The worst experience I had. Automatized program for unannounced reason blocks your profile, people you interacted with receive the letter of "investigation". Nobody helps you restoring your reputation, while the support team sends letters that are signed by Indian comedian… Indecent. Unacceptable.
Just don't do it
I believe this site has a very small membership base. Of all the matches I received, less than 1/4 had profile pictures. Having belonged to a few other sites, I never experienced anything like that before so my conclusion is that the site doesn't use genuine profiles. This was an expensive lesson to learn; glad I only paid for one month! Just don't do it… keep browsing!
If you like dealing with scammers
If you like dealing with scammers and spammers and spend your time perusing the fake profile this is the site for you.
I would not recommend
This site has been a complete waste of time and money. Although setting my distance requirement to 50 miles which is the smallest distance that you can input, most of the matches that are sent are at least 80 miles away, mostly being London. I would not recommend this site to anyone. It does not have any function for searching for matches yourself. After the first day I have only occasionally been sent any local matches, maybe two a week ! Ridiculous.
Lot of scammers
Lot of scammers. Including them… many charges not justified. Hard to understand thier cancelation and how to add services. They trick you with wording.
So many fakes
So many fakes, scammers and catfish on this site! Not to mention this site want you to pay for a membership so in their wisdom they heavily restrict what you can use for free. Not sure how that inspires me to want to buy a membership!
Don't understand
I got my account blocked after having one conversation from one of the hood chicks. Who flipped out on me. Don't understand that one at all. That was a sign so I'm going to leave it that.
A totally useless site
A totally useless site, I consider myself an intelligent person but how it is supposed to operate is a complete mystery. I am told someone has sent me a message but it does not appear under the Message section. Avoid like the plague and go to a site such as Telegraph Dating which is straight forward to use and open.
I do not recommend
From my perspective, I found this website to have some pretty ladies that "seemed" real, but a lot of fake profiles, out-of-date pictures, pictures that didn't look like the person in the profile, and scam artists needing money for one reason or another. Some were very creative in their requests. Others had a complicated story before asking for money. While this site staff tries to verify users and profiles, they have missed the boat on a number of levels. Messaging is tied to having a subscription to hook you in. I also noted profiles from women going back 2-3 years being passed off a being "current". I do not recommend this dating site.
Fake matches
Fake matches who are too good to be true and you don't hear from them anyway or they ghost you. Fake matches who are trying to rip you off. Don't waste you're time or money.
I have to admit
I have to admit, I was only on this dating site for a week, but I guess I got lucky because I meet a special person and I guess it would have never happened if it wasn't for trying this site.
Please stop sending automated messages
Please stop sending automated messages that seem like they are from the person you liked.
It is a straight up scam
It is a straight up scam. You might as well just set your money on fire now, rather than waste it on the clowns running this site.
It is obviously a scam
It is obviously a scam and I will tell everyone I can.
The worst ever dating site!
The worst ever dating site! When I joined I was a free member for a while, then they started sending message alerts. They made it look like I had so many messages but I could only read them after paying. Imagine my disappointment after paying only to discover that all the 24 messages were nothing but site generated fake images with nothing but a heart emoji or some stupid question like 'what is your favourite..?' The site is a rip off!
It's not worth my self esteem
It's not worth my self esteem to waste anymore engry on this site anymore.
Their customer service is non existent
Their customer service is non existent. They hide their contact form very well so you need to navigate around the site to find it, they always take you away from it when you try find it! That tells you a lot. I think this company needs to be investigated for their processes. I think they are a money making scam. As most dating sites are.
So grateful
I took their personality test and the results were phenominal! I was able to find a match quickly. My new boyfriend and I are so grateful for this site.
Good site
Good site if you are single
Very happy with outcome
Very happy with outcome, I joined couple years ago, within the first month I found the love of my life. Five years later still going strong, planning our destination wedding
It is very legit and trusted site
It is very legit and trusted site. Anybody can create their account on this site and enjoy dating. I personally visited on this site and after looking for each and every points than i create my new account on this site.
The site offers traditional exchange
The site offers traditional exchange of email messages, chatting in real time, video calls and telephone calls. These options are paid for by credits that you buy beforehand. There are also gifts that you can send using the site – emoticons and smileys that you buy for your credits as well and send to that special person that engaged your attention.
Experience was very positive
My personal experience was very positive. I met a couple of people who I had an immediate connection with. If you want to meet someone truly destined to be with you, check out this website!
I love the app.
I love the app. I met the woman of my dreams. I hope to be married soon. The only wish I had was to be able to save certain women I liked under favorites and see the last time they viewed me a lot faster
Amazing website!
Amazing website! I'm very thankful to site for meeting my stunning girlfriend! Less than year ago I didn't trust any kind of such online sites but now I see that it works.
A really good sign up process
A really good sign up process, and a good section of people on this dating site. Tried many dating sites and apps but this is really good
This site was perfect for us
After a few absurd messages from some clearly diluted individuals.. I actually met the woman I'm now marrying on the May this year. This site was perfect for us.. i highly recommend it. So thanks.. for finding me my wife
This Site is run by nothing but a robot
This Site is run by nothing but a robot, all the alleged Persons on the site are Fake and miss leading information, do don't join do not pay any moneys do not even register.
They have a no refund policy
They have a no refund policy. So be careful people. Don't waste your time an money. This site has to be borderline fraud
It's sad
The men that I have met online want one thing only. It's either money or sex. It's sad but I'm not interested any longer in this site. Thank you.
I would not recommend this site
Good luck but I would not recommend this site.
I would not recommend AsianDate.com
I would not recommend AsianDate.com
STAY AWAY from Asiandate.com
IF I could post without a star I sure would! If you pay close attention, you will see this site is a fraud! All the girls share the same clothes. This IS just a modeling agency put together to RIP MEN OFF! If you buy some credits or use the "free credits" they say you accrue the site STEALS them from you, then tells you that YOU clicked on a file that YOU KNOW you did not. I was enticed with a FREE LIVE CHAT which I clicked on. You get three minutes free. IF a "girl" answers, they stall & ask silly questions like, "are you real" & "can you prove me you real"? If YOU question them doubting you, they call you rude or try to get you to argue so you will stay longer & waste more credits. NONE of these girls will ever be in your area no matter what they say! STAY AWAY from this RIP OFF SITE!!! You will NEVER meet one of these girls face to face!